Mobility Scooters of the Future
7
Amazing
Mobility
Scooters of the Future!
Mobility scooters have never been more important than they are right now. There are a huge amount of people who rely on them to get around, to enjoy their lives, shopping, visiting family & going on days out. Meanwhile technology is taking enormous strides forward, with more & more products and inventions being created or being used to improve existing items.
One industry that has seen a recent insurgence of technology, is
mobility scooters
& personal transportation. Mobility scooters are common sights on the streets of the UK and we all know what they look like, but are advancements in technology about to change that?
Here are seven stunning mobility scooters that look futuristic, but could become available sooner than you think.
For a long time now people who have been bound to wheelchairs have had to invest in a mobility scooter as well & then move from one chair to the other, if they want to venture a little further a field. Well with the IWA, people can remain in their wheelchair and simply connect themselves to the futuristic add-on. The futuristic design really is amazing to look at and is definitely appealing – watch this space.
When you're in a mobility scooter safety is of utmost importance, and this revolutionary new design certainly provides that in plenty. The P.U.M.A has been designed for people in wheelchairs or those who regularly use mobility scooters. It may look like something from the movies and the technology that is integrated into it certainly adds to the perception, but it is at heart still a scooter to help people safely get around.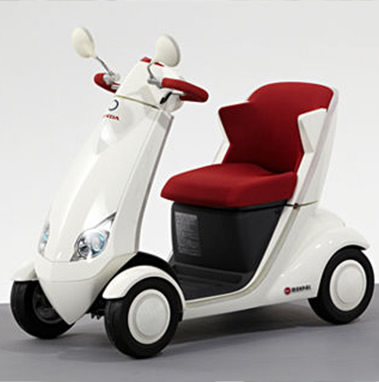 The brains at Honda have developed the EV-Monpal scooter which you might notice has a rather natty design, that does not look overly complicated to use. It encompasses a truly comfortable seat, a rather beautiful chassis and even a touch screen that can be personalised to the user.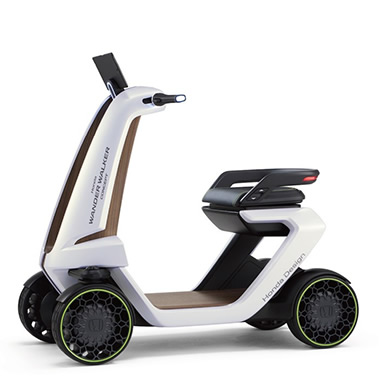 The Honda Wander Walker is the high-tech and beautiful mobility scooter that people have been waiting for. The combination of simple and stunning design with some tech-wizadry (including an on-board screen & sat-nav and an ingenious SOS button) has meant there has been some real hype around this product, which looks well deserved.
Is this the future of mobility scooters and commuter transportation? The 'egg car' concept could be about to take the world by storm. The rotating semi-spherical part is constantly rotating and allows the user to move forward at walking speed, and incorporates plenty of easy to use tech and safety features.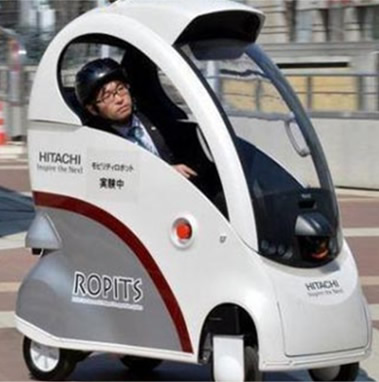 We've all heard of self-driving cars, well now Japanese designers have created a self-driving mobility scooter. The tech-heavy scooter really is a wonder to explore, boasting fully-enclosed & insulated body work, sensors, a GPS guidance system and of course the Robot for personal intelligent transport system software, that can drive on pavements and avoid potential obstructions all by itself.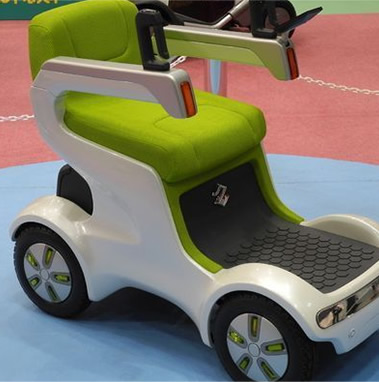 This mobility scooter provides a minimalist and cool exterior that is perfect for those who love their style. But it also has something else rather revolutionary – a collision avoidance system. The Suzuki Concept could be a real game changer as it allows the driver to control the scooter using state of the art joysticks and the clever collision avoidance brake system kicks in to prevent any accidental bumps into people or objects.
So whether your
portable mobility scooters
,
pavement mobility scooters
or
road mobility scooters
are becoming a little dated and run down & you've been looking for a new model, one of these amazing scooters could be for you. As well as the obvious advancements in technology and aesthetics that make them so great, there has been great strides forward in safety as well, which ensures you remain completely safe when you're out and about – which is all you can ask for.