Signs of Ageing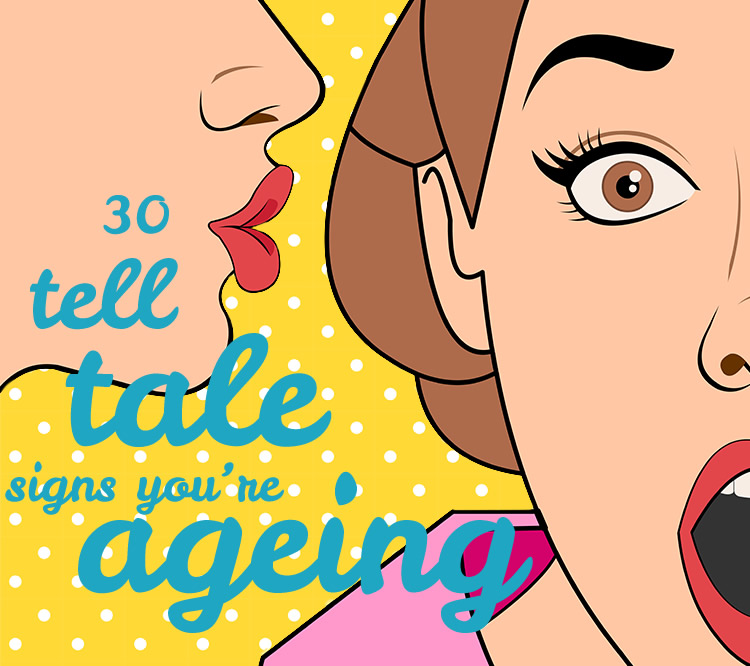 The horrifying discovery of your first grey hair, the extra wrinkles when you smile or the middle-aged spread. While these are all rather obvious signs that you are indeed getting older, there are other more subtle signs associated with the ageing process.
Here are the top 30
tell-tale indicators
that you're
ageing
.
Some may surprise you, some you will definitely already do and some will just sneak up on you.
Complaining about the rubbish on TV these days
Choosing new clothes & shoes based on comfort rather than style
Making a groaning noise when you bend down, or simply just choosing not to bend down
You Don't Know Any Songs In The Top 10 Music Chart
Taking a real keen interest in gardening
Struggling to use new technology
You talk to colleagues, who are so much younger than you that they do no know what an Opal Fruit or Marathon bar is.
An increase in the amount you complain
Forgetting things more often
Feeling Stiff
You move from Radio 1 to Radio 2
Preferring a night in a quiet pub, rather than a noisy packed pub.
Spending more money on anti-ageing products
Taking a flask of tea or coffee on a day trip
Puzzles & crosswords become more entertaining
Losing Hair on your head, but gaining hair in other places
Drinking sherry
Being genuinely grateful when you receive socks for Christmas
Falling asleep after one glass of wine or a single beer
Listening to the Archers
Voicing your opinion in a more abrupt manner
Losing weight becomes more difficult
You prefer a quiet night in, rather than a night on the town
More worried about your health
You start driving slower
The Antiques Roadshow becomes a personal favourite
Joining the Neighbourhood Watch
Never leaving the house without a coat
So if you've ever found yourself tuning in to the Archers, struggling with new technology, complaining about everything and anything or picked a more comfortable wardrobe recently, then there is only one conclusion – you are ageing. It may be difficult to accept at first, but don't worry everyone ages.